but that's what some say.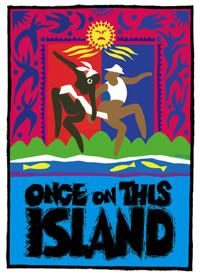 click here.
watched
once on this island
last night at the carlos p. romulo theater at rcbc tower. i must say, i was dumbstruck.
i was unfortunate enough to have witnessed a totally amateur production of the play about a couple of years ago. it was horrible and it left a really bad taste in my mouth. so when my sister told me we were watching the play and that they actually had professional actors, i had high hopes.
i was in for a treat. the opening number
"we dance"
was enough to erase the bad taste.
there were only 12 actors, and each one played his/her role so well it was almost magical for me. well i do believe the guy playing daniel and the girl playing ti moune could have done better
(look, somebody agrees with me.)
. but the rest of the cast, particularly bituin escalante, menchu lauchengco-yulo, bojie pascua (yes, kuya bojie), may bayot, and jett pangan gave justice to their roles. the little girl (i didn't catch her name) was also wonderful, with her lisp and pure voice. the last scene particularly got me.
must watch, if musicals are your thing. you won't be disappointed. i know i wasn't.
i'm still singing in my head.